Crystal Drinkware Catalog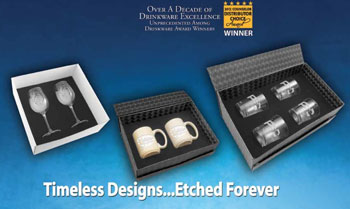 Featuring glass coffee mugs, tankards, sport mugs, barware, bar glasses, pint glasses, pitchers, wine glasses, decanters, carafes, flutes, goblets, martini glasses, champagne glasses, vases, jars and other etched glassware.
We have included many of our most popular items, all shown and priced with a Deep Etch logo. We also offer, for an additional cost, a variety of beautiful and functional gift packaging options. Not only do they add style and convenience, they are value-priced to fit your budget.
View the entire catalog now &raquo
6 MB PDF